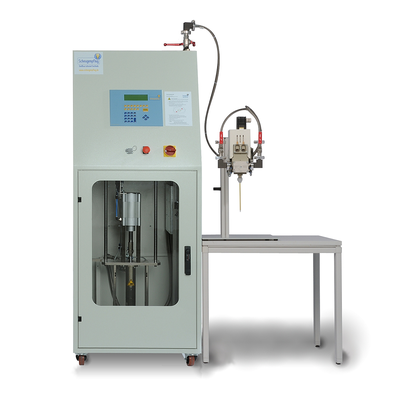 Features
Name
Detail
Metering head

Metering head type: Gear pump dispenser 1 component - 1 nozzle
Metering pump: Spinning pump (1-stream)
Rate of delivery of gear pump 2.642 ccm / rotation
Transmission of planetary gear 16:1

Metering needle

Needle type: L = 67 mm
Diameter needle (inside / outside) 2.4 mm / 3.2 mm
Volumetric dispenser mixer for high-viscosity resins
The volumetric dispenser mixer DOS A220-v1 is designed for dosing resins of high viscosity (1C and 2C). The machine uses "disposable" disc getters, allowing a perfect evacuation to vacuum without waste of material during the change of the stems.
The replacing drums process is automated and simple to perform.
Features
Microprocessor control with embedded PC, operator panel with LCD display and keyboard.
High reliability through automatic monitoring of all the functions of degassing, contact pressure, quantity and speed the measured position and the pressing plate.
Automatic attachment of the shaft to the pump independent of any operator errors.
Possibility to integrate systems of linear axes XYZ - CNCell