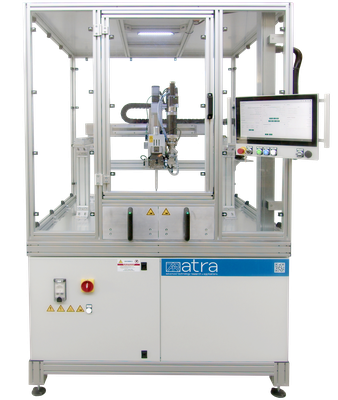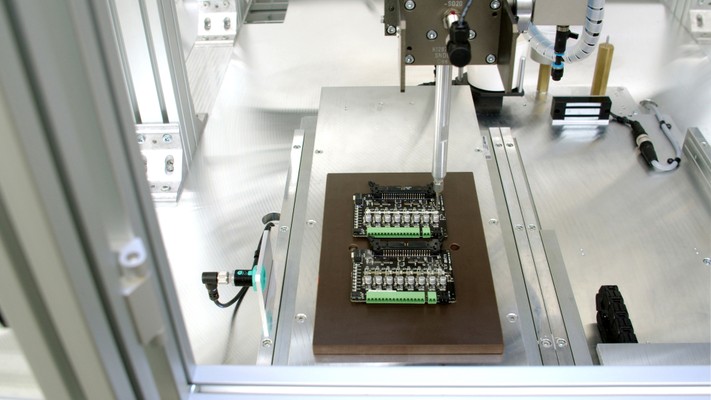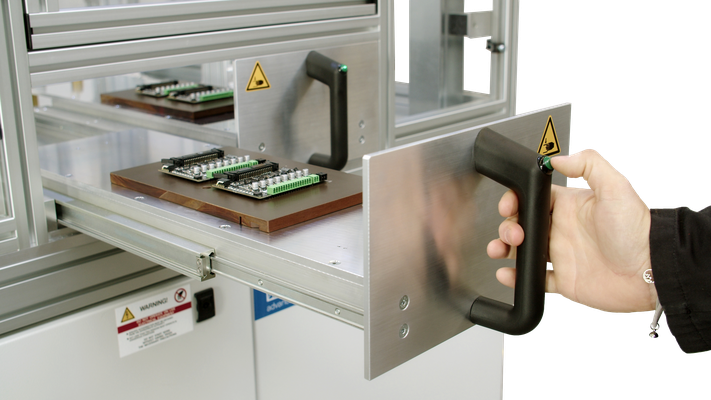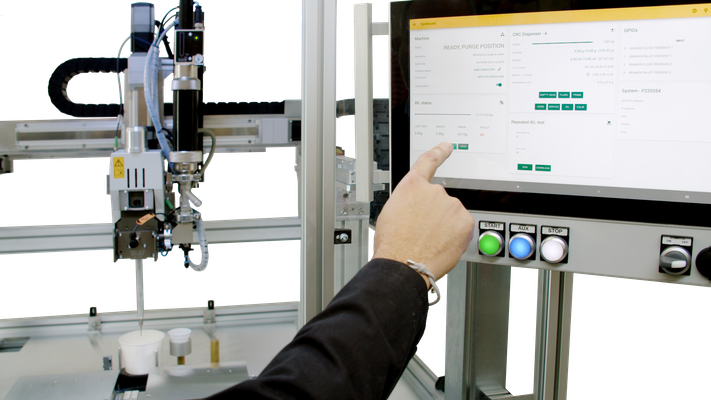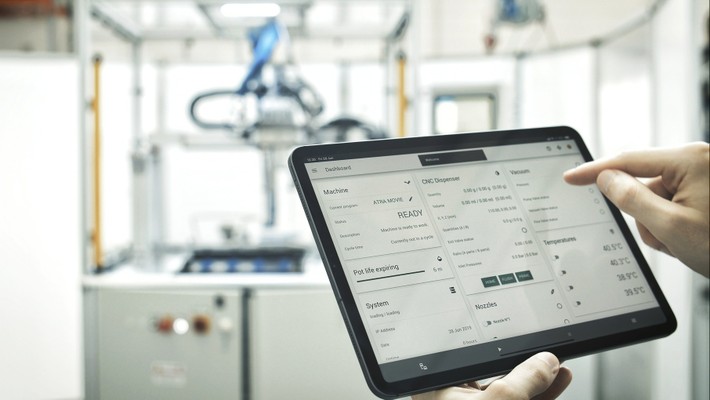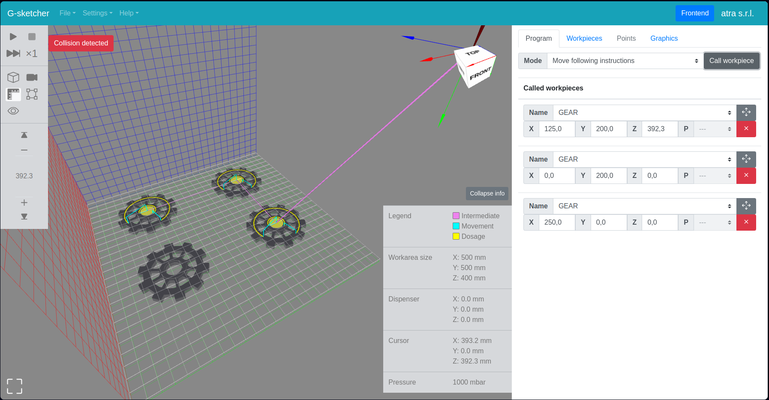 Features
| Name | Detail |
| --- | --- |
| Dimensions WxDxH | 1.410x1.350x2.500 mm |
| Working area | with drawers 500x500x150 mm, without drawers 500x500x300 mm |
| Max speed CNC | up to 300 mm/s |
| Transportable weight | up to 18 kg |
| Power supply | 3F + N + T ~ 400 V / 50 Hz |
CNC systemwith cartesian kinematics robot and interpolation between motion and dispensing.
This system offers:
Management of mutiple dispensing heads (DOP pistons, DOI gears)
Interpolation between motion and dispensing for a simplified and repatable process
Remote control via SCADA and/or PLC
Quick production chageovers thanks to an advanced proprietary software, compatible with all browser-equipped devices
Integration with factory computer systems
Automated connection with the logistics system, supply network and other machines
Teach programming with joystick (JOG)
Integrated weighing control (BIL)
3D G-Code programming tool (G-Sketcher)
Temperature management (RIT)
Management of external feeding systems (pressure and vacuum tanks, pressure plate pumps and cartridges)
MAIN APPLICATIONS
The system enables a wide range of processes from dispensing to bonding, from sealing to the application of thermally conductive materials.
Potting of electronic components of various siszes, including PCBs, sensors, transformers, coils, stators, connectors, wiring
Gaskets and seals for electronic enclosures
Suitable for variable bach sizes and dispensing of thermally conductive and thermosensitive materials
Capability for surface treatments using a plasma torch
INDUSTRIAL FIELDS
The system is successfully employed by leading international industrial players in the electrical, electronic, automotive, aerospace, chemical, medical sectors.
PRODUCT FEATURES
Multi-axes CNC with motion and dispensing interpolation
Embedded controller and user-friendly multi-devide HMI interface (CON)
G-Code programming
Presence and pallet positioning sensors
Safety PLC, optical barrier and positioning sesors (SIL-3)
Remote control via clea contacts and TCP/IP
Inudstry 4.0 certification
Integration with factory computer systems (ERP/MES)
G-Code software for 3D programming (G-Sketcher)
OPTIONALS
Different metering heads with interchangeable piston pumps (DOP) or geam pumps (DOI)
Quick head changeover campability
Choice between single or multiple nozzles (DOP)
Integrated material preparation management
Handling on spherical surfaces or with drawers
Joystick for teach-mode programming (JOG)
Plasma unit implementation
I/O vision systems and quality control (barcode)